Stephanie Dinkins
Stephanie Dinkins est une artiste transmédia qui crée des plateformes pour des dialogues à propos de questions raciales, d'âge et de nos histoires futures. Les pratiques artistiques de Dinkins emploient les nouvelles technologies, les pratiques du documentaires et des collaborations sociales à propos de l'équité et de la souveraineté des communautés. Elle est particulièrement impliquée auprès des communautés racisées pour co-créer des écosystèmes ancrés dans des valeurs sociales et technologiques. Dinkins enseigne à l'université de Stony Brook.
(Traduction de l'éditrice, ouverte à corrections)
Stephanie Dinkins is a transmedia artist who creates platforms for dialog about race, gender, aging, and our future histories. Dinkins' art practice employs emerging technologies, documentary practices, and social collaboration toward equity and community sovereignty.  She is particularly driven to work with communities of color to co-create more equitable, values grounded social and technological ecosystems. Dinkins is a professor at Stony Brook University where she holds the Kusama Endowed Professor in Art.
Source : site de l'artiste.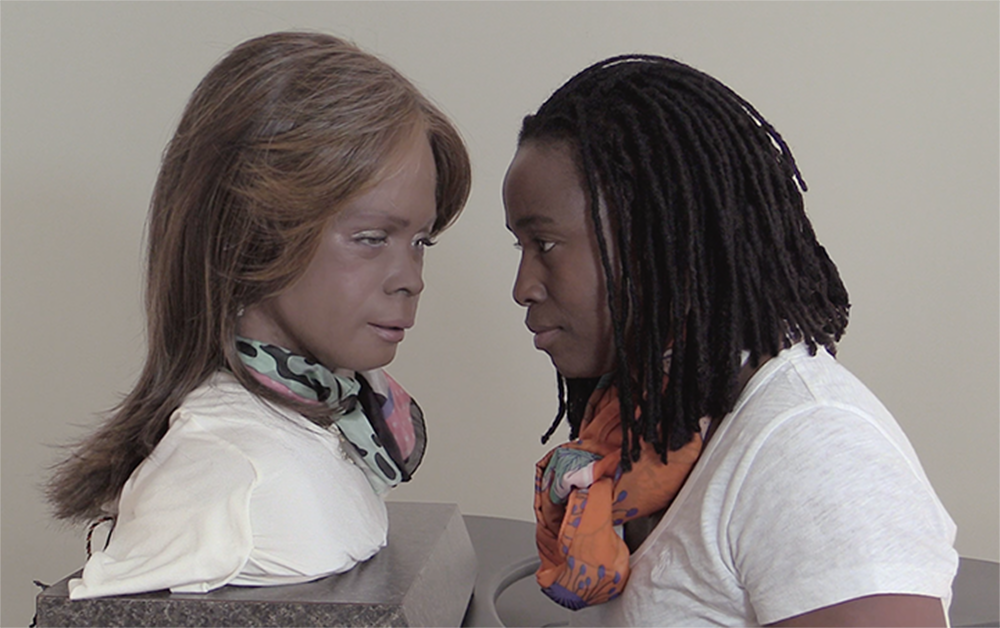 Conversations avec Bina48, Stephanie Dinkins, 2014 - en cours.
Lien vers le site de l'artiste.